The Suncover – A Beautiful Custom Canopy from Sunesta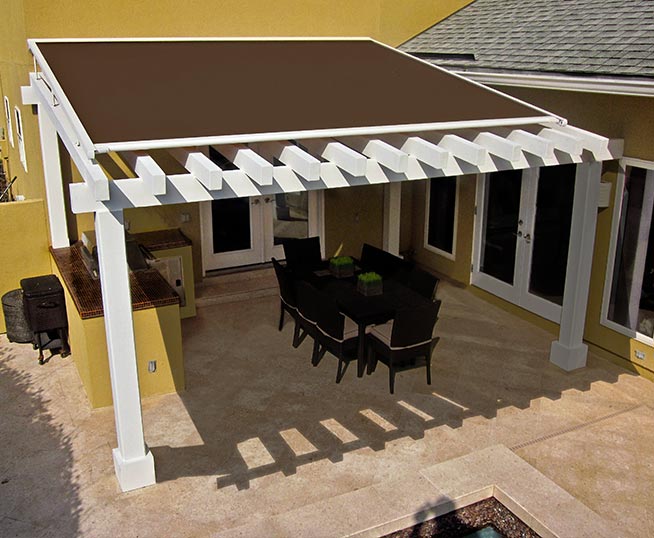 An aesthetically pleasing and functional custom canopy from the experts at Sunesta can be added to any home to create a shaded retreat that can be enjoyed throughout the seasons. Instead of planning get-togethers around the heat of the day, you'll be able to enjoy hosting outdoor gatherings when it's convenient for you.
Here at Sunesta, we offer a wide variety of awnings to ensure that we have a style that meets your every need. One popular choice is the Suncover retractable shelter, which is a great option for those who want to cover an existing structure such as a skylight, sunroom, or pergola. When you order a Suncover custom canopy from us, you can expect it to be:
Retractable, allowing you to enjoy the sunshine on a cool day and the shade during the warmer seasons
Custom made to fit its intended location perfectly, be it a skylight, sunroom, pergola, or other structure
Beautiful, since you'll have more than 150 fabric styles to choose from
Manufactured with durable fabric that won't succumb to unsightly fungus or fade in direct sunlight
Powder-coated in a finish that is four to eight times thicker than paint, helping to prevent scratching and rusting
Compatible with our SmartControl™ features, including wireless remote controls and automatic wind and sun sensors
Backed by five-year warranties on the frame and motor, and up to a 10-year warranty on the fabric
Additionally, your new custom canopy will come with its own SmartCode™. This unique number will enable us to quickly access the specifications of your canopy, so we can provide assistance if it's ever needed down the road.
Call 1-800-SUNESTA today if you would like to learn more about adding a beautiful custom canopy to your home.