A Sunesta Awning for Your Home in the West Palm Beach, FL, Area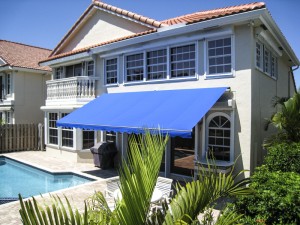 For a high-quality awning for your home in West Palm Beach or a nearby area of Florida, look no further than Sunesta. Our awnings are custom made, which means your new awning will be manufactured to fit the precise dimensions of your patio for a look that simply cannot be obtained from a one-size-fits-all patio cover. We also offer the widest selection of fabrics to pick from in the industry, so you are sure to find a design that will complement the style of your home.
Once you have your new awning installed at your home in the West Palm Beach, FL, area, you'll be able to comfortably enjoy a variety of outdoor activities throughout the year since you'll have a cool shaded space to relax in and:
• Catch up on your recreational reading
• Host barbeques and other outdoor parties
• Grow beautiful sun-sensitive plants
• And so much more
Plus, when you turn to us for your awning, you don't have to worry about time-consuming maintenance issues keeping you from enjoying your free time. Your awning will be woven from 100 percent solution-dyed synthetic fibers that are resistant to fading and unsightly fungus growth. Your canopy will also be mounted on durable powder-coated frames that are exceptionally easy to clean.
If you would like to learn more about adding an awning to your home in the West Palm Beach, FL, area, call 1-800-SUNESTA today. Our specialists will gladly answer any questions you have and can tell you more about the outstanding products we have available.