Awnings Create Shade and Comfort for Indoor and Outdoor Living Areas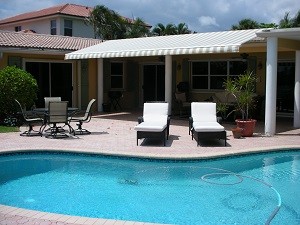 Awnings are the perfect home additions for increasing shade and comfort both inside and outside of a residence. For example, awnings installed over windows and sliding glass doors prevent sunlight from filtering in through the glass. This helps inhibit damage caused by sunlight to flooring and furniture, and it also limits heat transfer from the sun's rays, effectively keeping the internal temperature of your home more consistent without extra work from your HVAC system. On the same principle, awnings installed over an outdoor area such as a patio or pool deck prevents overexposure to the damaging effects of the sun's UV rays to the people and furniture underneath it. This, in turn, keeps you cooler while outdoors and keeps your outdoor furniture in better condition.
There are several different types of awnings that can be installed on your property, such as:
Stationary or fixed – This type of awning is usually attached permanently to a wall on the house and cannot move.
Retractable – This type of awning can also be attached to the wall of a home, but can be extended or retracted using a manual crank or a motorized control, giving the user control over how much shade is created underneath.
Freestanding – This type of awning can also be retracted, but instead of being attached to the wall, it is its own shade structure that can be placed anywhere on a property.
Awning covers – This type of awning is installed on top of an existing structure, such as pergola. It can be stationary or retractable.
If you'd like to explore different awning options for your home, turn to Sunesta. We specialize in creating custom awnings for our customers, ensuring they get the perfect shade solution for their lifestyle needs and aesthetic preferences. Our awnings can be made to fit the exact dimensions you specify, and are available in numerous color and pattern options that are sure to complement your home's exterior and your personal tastes.
For more information about the custom awnings we can create for your home, call us today at 1-800-SUNESTA.