A Custom Patio Canopy for Your Home in Ponte Vedra Beach, FL, or Another Nearby Area
A Custom Patio Canopy for Your Home in Ponte Vedra Beach, FL, or Another Nearby Area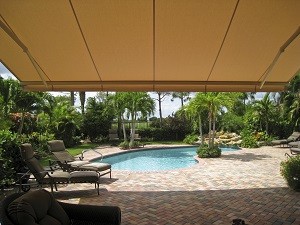 A patio canopy can be a beautiful and functional upgrade to your home in Ponte Vedra Beach, Florida. For gorgeous, long-lasting canopies, turn to the experts at Sunesta. We offer retractable awnings that can turn your underutilized patio area into an outdoor living space you actually want to spend time in.
At Sunesta, our awnings are custom-sized to fit the exact measurements of your home, so you can feel confident that yours will fit on your patio perfectly and look great. Each patio canopy we offer to homeowners in Ponte Vedra Beach, FL, comes with a number of other benefits, including:
Durability – Our fabric is woven from 100 percent solution-dyed synthetic fibers, which means it won't fade in the sun and it's resistant to the growth of mold and mildew.
Customizable options – With the largest selection of fabrics in the industry, including solids and stripes in bright and neutral colors, you are sure to find a look that you love.
Low-maintenance – Our synthetic fabric and powder-coated frames make for easy cleaning and upkeep. Simply wipe with a cloth and some warm soapy water and viola – you have a clean awning.
In addition to offering top-of-the-line products, we also excel when it comes to serving our customers. Every patio canopy we make here at Sunesta comes with a unique SmartCode™ number that will give us immediate access to the specifications of your canopy in case you ever have any questions or concerns in the future. Plus, our products come backed by an industry-leading warranty so you can rest easy knowing that your new patio canopy will remain protected.
To learn more about the custom patio canopy solutions that we offer to homeowners in the Ponte Vedra Beach, FL, area, call 1-800-SUNESTA today. Our skilled team of professionals is available to answer any questions that you might have.