An Awning Can Create a Shaded Retreat at Your Home in the Glencoe, MN, Area
An Awning Can Create a Shaded Retreat at Your Home in the Glencoe, MN, Area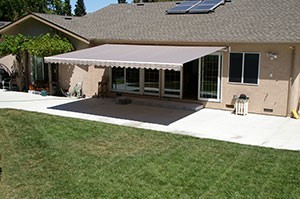 A premium awning from the experts at Sunesta can turn your underutilized patio in the Glencoe, Minnesota, area, into an outdoor living space you and your loved ones can enjoy throughout the year. All of our beautiful awnings are custom manufactured, so you can be sure that your canopy will perfectly fit the precise dimensions of your unique patio. The result is a clean and sophisticated look that cannot be obtained from a one-size-fits-all awning.
After your new awning from Sunesta is installed, you'll be able to enjoy a variety of activities in the shade, including:
• Hosting get-togethers
• Reading a book and relaxing
• Growing sun-sensitive plants
• And more
While you enjoy your awning and newly shaded space at your home in the Glencoe, MN, area, you won't have to worry about pesky maintenance issues since your new canopy will be:
'Ä¢ Made from 100 percent solution-dyed synthetic fibers that won't fade in direct sunlight or succumb to unsightly mildew and mold growth
• Mounted on durable powder-coated frames that are easy to clean
• Built to withstand winds greater than the industry-recommended 45 mph
Plus, your awning will be retractable, meaning you can roll up your patio cover when you feel like lounging in some warm sunshine or getting a dose of Vitamin D.
If you would like to learn more about adding an awning to your patio in the Glencoe, MN, area, call 1-800-SUNESTA today. Our specialists will gladly answer any questions you have.