Awnings Las Vegas NV | Durable Awnings
Durable Awnings for Homes in the Las Vegas, NV, Area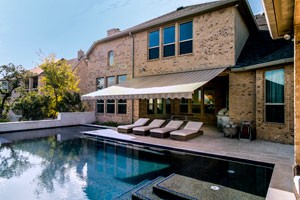 For top-notch awnings in the Las Vegas, Nevada, area, turn to the experts at Sunesta. We are pioneers in the shade solution industry and offer beautiful, long-lasting awnings to homeowners in need of cool shaded spaces in their outdoor living areas. Once you have an awning from Sunesta installed, you'll have a comfortable area to entertain or relax in even on a hot summer day.
All of the awnings we sell in the Las Vegas, NV, area, are custom made, which means your new canopy will perfectly fit the precise dimensions of your patio for a sophisticated look that can't be obtained from one-size-fits-all patio covers. Additionally, all of our awnings are:
Built to withstand winds greater than the industry-recommended 45 mph
Manufactured with powder-coated frames that are virtually maintenance free
Made with fabric that is exceptionally durable and resistant to unsightly fungus growth and fading in direct sunlight
Retractable, so you can enjoy the cool shade on a hot day and sit in the warm sun during the cooler months
Beautiful, since you can pick from a wide selection of fabrics to find a color and pattern that will complement the style of your home
In addition to selling top-of-the-line awnings, we also provide our customers with outstanding customer service. Your new patio canopy will come with a unique SmartCode™ number that will help us quickly access the details of your product in case you need assistance with it down the road.
To learn more about the features our stylish and sturdy awnings come with, call 1-800-SUNESTA today. One of our knowledgeable associates is available to answer any questions you have and can tell you more about all of the excellent products we offer to homeowners in the Las Vegas, NV, area.