Awnings NC | Durable Awnings
Durable Awnings Available to Homeowners in NC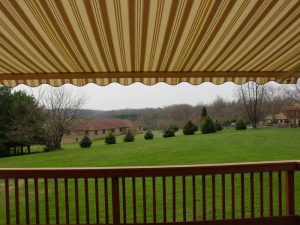 Having awnings installed on your home in North Carolina is an easy way to increase its curb appeal. However, you will want to make sure that the canopies you have installed will stand up to the weather conditions that they will be exposed to outdoors. Thankfully, Sunesta Awnings are custom made and durable enough to stand up to anything Mother Nature dishes out. Our exceptionally wind-resistant products have been approved by the Miami-Dade County and Florida Building Codes for their ability to hold fast even through strong wind gusts. This means that you will be able to feel confident in your Sunesta product.
In addition to being wind resistant, Sunesta products are durable in other ways. For example:
Our awnings can be retracted during rain, sleet, snow, and hail storms for protection against the elements that affect North Carolina.
Our awnings are woven from 100 percent solution-dyed synthetic fiber – a material that is resistant to the growth of mildew.
We powder-coat our frames in a finish that is four to eight times thicker than paint to protect them from scratching and rusting.
For more information about why our awnings are the best sun shade products for your home in North Carolina or a surrounding area, call 1-800-SUNESTA today. An experienced member of our team will happily answer any questions you have about our product line. Don't forget to ask about the awning products that we make for windows, doors, and other parts of the home.