Choose Sunesta for Your Custom Awning & Engineer Your Perfect Day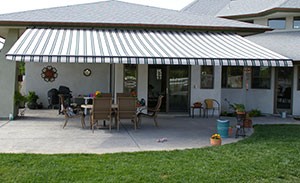 If you'd like a custom awning made for your home, there's nowhere better to turn than Sunesta. As one of the first companies to custom-manufacture retractable awnings, Sunesta is a true pioneer of the awning industry. Our awnings are made to fit your space exactly, to the inch, so no matter if you're in the market for a smaller awning for your window or a larger one to cover your deck or patio, we've got you covered. We even offer freestanding structures that can provide shade for an outside area away from your home – perfect for creating that poolside oasis you've been longing for.
Additionally, any custom awning by Sunesta is available in more than 180 fabric styles. Among our selection of solid colors and striped patterns you can be sure that you'll find one to create the aesthetic you have in mind. Unlike many of our competitors, we offer different frame colors as well, affording you complete control over the aesthetics of your awning.
Sunesta Awnings are not only highly customizable, but also exceptionally durable. In fact, every custom awning by Sunesta features:
100 percent solution-dyed, acrylic fabric – Acrylic is a synthetic fiber, so it's incredibly resistant to mildew and rotting. Moreover, our dying process prolongs the vibrancy of our fabric's color.
Powder-coated frames – The powder-coated finish on our awnings' frames is four to eight times thicker than paint, creating an extremely smooth and long-lasting layer of color.
Trend-setting wind resistance capabilities – Our awnings have been approved by the Miami-Dade County and Florida Building Codes for their ability to perform reliably in high-speed winds.
To learn more about Sunesta's custom awning solutions, call 1-800-SUNESTA today.