Custom Home Awnings Crafted by Sunesta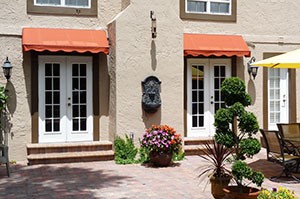 Sunesta's retractable home awnings are the preferred choice of many people across the United States because they are custom made for every application. Whether you're looking to provide shade for your windows, doors, patio, deck, or elsewhere, Sunesta will craft an awning that fits virtually any space you have in mind perfectly – exact, to the inch. Additionally, we offer one of the largest fabric selections in the industry, which comprises more than 180 color and pattern options.
In addition to size, Sunesta's home awnings can be customized in other ways as well. We offer a variety of optional features, including but not limited to:
SmartHood™ – This is a durable, one-piece casing that can be installed to provide additional protection for an awning when it is retracted.
SmartDrop™ – This is an innovative dropdown valance, which provides shade protection even as the sun lowers into the horizon.
SmartPower™ – Don't forget about motorization! Our SmartPower™ option makes the extension and retraction of your awning as easy as pushing a button.
SmartTilt™ – This mechanism allows you to easily readjust the angle of your awning to ensure shade no matter where the sun is in the sky.
Just as Sunesta's home awnings are entirely customizable, so too are they incredibly durable. Our fabric is woven from 100 percent solution-dyed inorganic fibers, meaning it's incredibly resistant to common problems like the fading and running of color and mold and mildew growth.
To learn more about our home awnings, call 1-800-SUNESTA today.