Custom Outdoor Shades for Your Porch Allow You to Upgrade Your Outdoor Area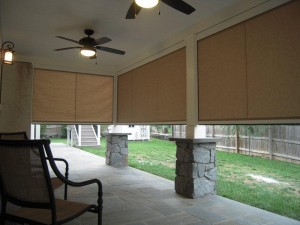 With custom outdoor shades for your porch, Sunesta makes it easy to enjoy the sun or shade anytime the mood strikes. If you're a homeowner who wants to make the most out of your porch area in any type of weather, a Sunesta outdoor shade is the perfect solution. Since our porch shades open and retract easily, we make it simple for you to enjoy the warmth of the sun or relax in the comfort of shade any time you feel like it, all from the comfort of your home's patio.
At Sunesta, we know that no two homes are alike. Your home reflects your individual style, which is why we offer many types of fabrics. We manufacture your unique retractable porch shade using the specific dimensions of your home, for a truly tailor-made experience. What's more, everything for your outdoor shade – including the fabric type and accessories – can be completely customized in our American manufacturing facility.
Additionally, because all of our outdoor shades for your porch are custom made, you have the options of choosing a wide variety of different fabrics to meet your individual needs and tastes. We offer fabric solutions like:
Opaque fabrics for enhanced privacy
Bug screens for protection against pesky insects
Vinyl windows that offer protection from rain and cold weather
Solar mesh
And more
In addition to creating one-of-a-kind outdoor shades, we also strive to provide excellent customer service as well. We offer comprehensive warranties on all of our products, and mark each of our retractable shades with a unique SmartCode™ number, which allows us to offer personalized assistance for your specific product even several years down the road.
To learn more about how Sunesta can custom build outdoor shades for your porch, call 1-800-SUNESTA today.