Patio Awning Lakewood Township NJ
Custom Patio Awning Products for Homeowners in Lakewood Township, NJ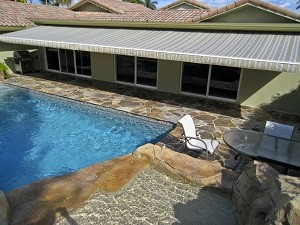 If you want to have a patio awning installed on your property in Lakewood Township, New Jersey, turn to Sunesta. Since 1981, we have helped engineer custom shade solutions for our customers, providing them with comfortable areas to enjoy the outdoors. Our awnings offer the flexibility to have shade when you need it and sunlight when you want it, making them the perfect choice for covering your patio, pool deck, or another area of your property.
At Sunesta, every patio awning we produce is made to order, because no two homes are the same. We allow you to customize many aspects of your new awning, starting with size – we can create awnings that are up to 40 feet wide with projections up to 14 feet, 8 inches. Plus, you'll be able to further customize your patio awning with your choice of one of several frame colors and more than 180 different fabric styles. What's more, you'll also be able to add a number of different accessories for enhanced functionality, such as:
A dropdown valence that will provide extra protection from a rising or setting sun
A motorized extension and retraction mechanism versus a manual crank, with the option of adding a remote control
A protective case that houses your awning when not in use, preventing the buildup of leaves and other debris
And more
When you choose Sunesta to manufacture a new patio awning for your Lakewood Township home, you can rest assured knowing that our products are built to last. Our solution-dyed acrylic fabrics will not fade or grow mold or mildew, and our metal structures can withstand winds higher than the 45 mph industry recommendation. Plus, we back all of our products with industry-leading warranties for your added peace of mind.
For more information about creating a patio awning for your home in Lakewood Township, NJ, call 1-800-SUNESTA today.