Sunesta Canopies for Homes Throughout the United States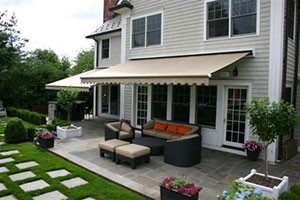 Beautiful and long-lasting canopies can be smart investments for homeowners throughout the United States. For a top-of-the-line canopy, turn to the specialists at Sunesta. We have a wide variety of awnings perfect for patios, decks, doors, and windows. All of our canopies are custom made to ensure a perfect fit, so you can feel confident that they will complement your home.
In addition to being customized, all of our canopies come with a number of other benefits, including:
Mold and mildew resistance – Our fabric is woven from solution-dyed synthetic fibers, which means they won't succumb to mildew and mold growth.
Low maintenance – The frames we use are all powder coated, so they are exceptionally easy to clean. This means that you will get to spend more time enjoying your new canopy, and less time worrying about its upkeep.
Customizable options – We have the largest selections of fabrics in this industry, so you are sure to find a color and pattern you love.
These aren't the only benefits, however. Our canopies are also retractable. With a canopy from Sunesta, you'll have the ability to enjoy your shaded patio when you want relief from the sun, or you can easily roll up your awning to enjoy some sunshine when you feel like getting some extra Vitamin D.
To learn more about the canopies we have available, call 1-800-SUNESTA today. Our team of experts are available to answer any questions that you might have.