Deck Canopy
Deck Canopy Solutions for Supreme Outdoor Comfort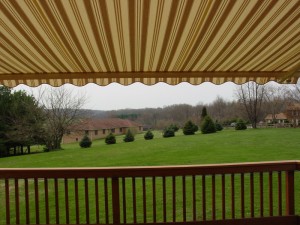 A deck canopy is the perfect addition for your home if you love spending time outdoors – especially if you choose a Sunesta Retractable Awning. Sunesta Awnings allow you to be in complete control of the shade, effectively creating your ideal day. If the sun gets too intense, simply extend your deck canopy to cool off in the shade. Starting to drizzle while you're in the middle of grilling hamburgers for your guests? Having an awning overhead will let you cook a delicious meal while staying dry. On the other hand, just retract the awning whenever you feel like soaking up the sunshine or working on your tan.
A Sunesta Awning isn't your standard, run-of-the-mill deck canopy. Aside from the fact that all of our awnings are retractable, they're also custom made for each of our customers, and they come with some outstanding features. For example, our smart-folding arms allow our awnings to fit even the narrowest widths with large projections. Additionally, we have more than 180 different fabric options to choose from, so you'll be able to custom-order awnings that beautifully complement your home.
There is also a wide range of optional features available with Sunesta Awnings, including:
Drop-down valances for low-sun protection
Motorized operation
Protective casing for the awnings when retracted
Remote controls
Sun and motion sensors for automatic extension
And more
Adding a Sunesta Awning to your home can benefit you in more ways than just in the awning's day-to-day use. For instance, if your home has several windows or patio doors sharing a wall with your deck, a canopy will naturally shade the interior of your home, leading to noticeable energy savings. Furthermore, a deck awning expands your home's outdoor living space and beautifies its exterior, enhancing resale value.
To learn more about Sunesta Awnings and what makes them the ideal deck canopy solution for homeowners, please contact us at 1-800-SUNESTA today for more information.