Have a Sun Canopy Customized and Installed for Your Home by Sunesta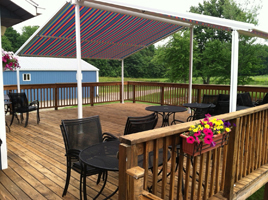 Are you looking for a sun canopy to provide shade for a particular area around your home? If you are, why settle for anything less than a shading solution that is tailored your home's unique needs? At Sunesta, we've provided homeowners across the USA with custom shading solutions since 1981. We manufacture retractable awnings for windows, doors, patios, and decks; freestanding shelters that can provide shade away from the walls of your home; canopies that can be installed atop pergolas and other existing structures; and much more. Plus, every Sunesta Sun Canopy is custom-sized to ensure a perfect fit, and is available in many different fabric styles, colors, and patterns so you can choose the material that best matches your home's exterior décor.
More than just wildly beautiful, Sunesta's awnings and canopies are also exceptionally long-lasting. In fact, you can expect your Sunesta Sun Canopy to possess the following durable materials:
100 percent solution-dyed, acrylic fiber woven fabric
Power coated and sturdy metal frames
Stainless steel hardware
And more
Additionally, Sunesta has some of the most helpful customer service in the industry. Not only do we offer extensive warranty coverage, but each of our products is marked with a unique SmartCode™. This number will allow us to look up the specifications for your particular product and allow us to provide personalized assistance should it ever be needed in the future.
Ready to have a sun canopy customized for your home? Call 1-800-SUNESTA today and one of our representatives will be happy to assist you.