Highly-Functional Awning Options for Your Patio From Sunesta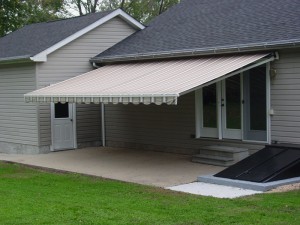 With a new awning on your patio from Sunesta, you will have a product that is much more than a standard sunshade. Our patio covers can protect you from the blinding light of the sun and they are the easiest-to-use awning options in the industry. Sunesta was founded in 1981 and pioneered the awning industry by creating one of the first retractable sunshade options available in the United States. While other manufacturers have struggled to keep up, Sunesta has remained at the top of the market by always offering patio awning options with new and exciting features that are unseen anywhere else.
For example, our optional SmartControl™ feature allows full remote control over a Sunesta Patio Awning. We also offer the following add-on options to homeowners across the country:
SmartCase™ – Our uniquely designed protective case ensures that no leaves or other debris end up in your awning during retraction.
SmartTilt™ – A technology that allows your awning to quickly be adjusted to create shade when you need it, no matter the position of the sun.
SmartDrop™ – A motorized drop-down curtain that extends from the front bar of your awning to ensure protection from the sun even when it is in its lowest points of the sky.
And more
Sunesta offers all of these unique features and more, due in large part to our custom-manufacturing process that is handled right here in the United States. We have developed a state-of-the-art process for making awnings that allows us to implement all of these features and more. Plus, we can make our awnings in custom sizes.
To learn more about the patio awning options that Sunesta offers to homeowners in the United States, call 1-800-SUNESTA today.