How a Retractable Awning can Help You Enjoy Your Outdoor Space More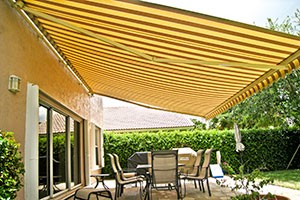 Once you have a premium retractable awning from Sunesta installed on your home, you'll be able to take advantage of your outdoor living area like never before. No longer will harsh sunshine bother you on a hot day, since you'll be able to relax in your new shaded space. You will have the perfect area to entertain in, watch the kids while they play in the pool, and plant those sun-sensitive flowers you've always wanted to grow. Plus, our awnings are retractable, so when you feel like sitting back and soaking in some vitamin D, you'll easily be able to.
At Sunesta, we only provide the highest quality of products. Every retractable awning we offer is custom cut to fit the precise specifications of your patio space. Our awnings are also:
Able to withstand winds greater than the industry-recommended 45mph
Manufactured with powder-coated frames, making them exceptionally easy to clean
Woven from solution-dyed fibers, so your new awning will be resistant to mold and mildew growth
Plus, we offer the largest selections of fabrics to choose from in the industry. With such a wide variety of styles to pick from, we are sure you'll find a color and pattern you love.
In addition to our exceptional products, we also provide excellent customer service. When you order a retractable awning from us, it will come with a unique SmartCode™ number, which will give us instant access to the details of your awning in case you need any assistance. Additionally, our awnings come backed with industry-leading warranties, so you can feel good about your investment.
If you would like to learn more about adding a retractable awning to your home, call 1-800-Sunesta today.