Custom Awnings | Improve Your Outdoor Living Space
How Custom Awnings can Improve Your Outdoor Living Space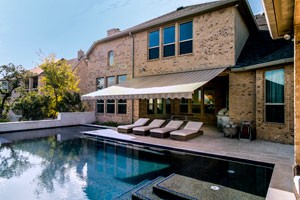 Custom awnings can drastically change the outdoor experience you have at your home. Instead of having your afternoons cut short by the scorching heat from the sun, imagine being able to enjoy relaxing afternoons in the shade of your awning. You can comfortably watch your kids play in the pool, or you can catch up on relaxing while reading your favorite book.
In addition to protecting you from the sun, custom awnings can also add to the aesthetics of your home. Unlike awnings you might find at your local stores, custom awnings can be manufactured to perfectly fit the space of your patio, deck, window or door. You can also choose the color and pattern you want incorporated into the design of the fabric, so you are sure to find a style that will complement your home.
For beautiful and long-lasting custom canopies, turn to Sunesta. We offer the largest selection of fabrics in the industry, so we know that you will find one you love. Plus, our fabrics are woven from solution-dyed synthetic fibers, so they won't succumb to mildew and mold growth. Additionally, our awnings are retractable, so they give you the best of both worlds. You will have protection from the sun when you want it, and then you can automatically or manually roll up your awning when you want some sunshine.
To learn more about the retractable custom awnings we offer, call 1-800-SUNESTA today. Our team of specialists are available to answer any questions that you might have.