How Sunshade Awnings Can Help Homeowners Enjoy the Outdoors More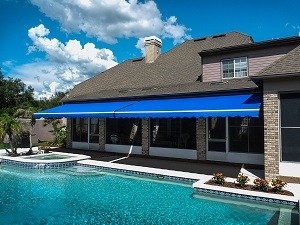 Sunshade awnings can easily transform underutilized backyards into shaded outdoor retreats to enjoy throughout the year. No longer will the hot sun be cause to head inside since you'll be able to sit in the cool, shade of your new patio.
For premium sunshade awnings, look no further than Sunesta. Our awnings create spaces that are perfect for:
Relaxing and reading a book
Hosting barbeques
Watching the kids play in the pool
Growing sun sensitive plants
And so much more
Plus, all of our patio covers are custom cut to fit the precise dimensions of your patio, so you can be certain that your new awning will flawlessly fit in your outdoor space. Additionally, we offer a wide range of fabrics to choose from, so we are sure you will find a color and pattern that will perfectly complement your home.
In addition to being aesthetically pleasing, our sunshade awnings also come with a number of other benefits, including:
Durability – Our patio covers are built to withstand winds greater than the industry-recommended 45mph.
Low maintenance – Your new awning will come with powder-coated frames, which makes cleaning exceptionally easy. Simply wipe down with soapy water every once in a while, and your patio cover will look brand new for many years to come.
Fade resistant – All of our awnings are manufactured with fibers that are 100 percent solution-dyed acrylic, so direct sunlight will not cause your beautiful awning to fade.
To learn more about the sunshade awnings we offer, call 1-800-Sunesta today. Our specialists are available to answer any questions you have.