Let Your Search for the Best Awning Manufacturers Go No Further Than Sunesta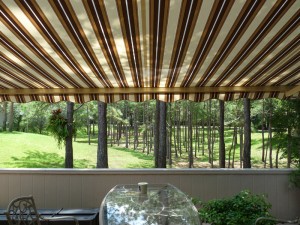 When it comes to awning manufacturers in the United States, Sunesta has been at the forefront of the industry since 1981, and we are proud to highlight the fact that we were offering retractable patio awnings well before most of our competition. Sunesta has truly separated itself from the rest of the pack by designing a proprietary method of manufacturing that enables us to create highly durable products with features that are simply unseen by any of the nation's other awning manufacturers. It's because of this state-of-the-art manufacturing technology that Sunesta is able to provide our clients with the fastest turnaround times in comparison to the countless other second-tier awning manufacturers.
Furthermore, each of the awnings that we provide to our clients throughout the country are completely custom made and available with any number of various optional features, including:
SmartDrop™ – A translucent curtain that can be lowered from the front of an awning when the sun is low in the sky
SmartControl™ – A cutting edge feature that allows you to automatically expand or retract your awning with a remote control
SmartFold™ – Most commonly used for patios with narrow widths, this feature allows for arms to automatically fold over your awning while retracted to create a cleaner aesthetic on your home
SmartCase™ – An awning encasement that is built to provide protection for your awning and keep debris out of the fabric while it is being retracted
At Sunesta, we are also committed to making awnings that are able to hold up to harsh weather conditions better than any of the other awning manufacturers in the United States. In fact, we are the only manufacturer that has been approved by both Miami-Dade County and Florida Building Codes for resistance to high-speed winds.
For more information about the custom manufacturing procedures that sets Sunesta apart from other awning manufacturers, contact us at 1-800-SUNESTA today.