Making the Most of Your Midwestern Comfort: Awnings vs. Pergolas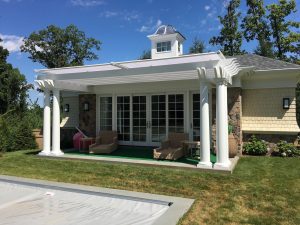 You're finally in the position to pursue a long-awaited home renovation project: your favorite outdoor space.
But as you scan the area and try to decide how best to provide yourself with the safety and comfort of shade, you can't help but stop short. After all, how are you supposed to decide between a pergola and an awning?
Don't worry, if this is the question on your mind, you're hardly alone. That's why we're here to walk you through the basic differences between the two:
Perfectly Prepared With A Pergola
If you're a Midwesterner who would like to put a little distance between you and your house while you relish your outdoor space, a pergola is an ideal fixture for you.
Unattached from the side of the property itself, a pergola is a freestanding structure that is erected wherever you'd like your own space for shade, a garden, or any other outdoor hobbies and indulgences.
In other words, it's an incredibly versatile space for those ready to take on an outdoor home renovation project.
That being said, pergolas do come with the inherent risk of increased sun exposure. As they are not enclosed in any way and are often designed with wooden lattices on the side, sunlight is more apt to sneak its way in, thereby putting a literal spotlight on your outdoor haven… and causing it to heat up even faster.
However, one can lessen the impact of this particular con by investing in a pergola cover. And when you invest in Sunesta's retractable Sunplus cover, you even reap the added benefits of additional rain gutters!
Optimizing Your Outdoor Space With An Awning
Where pergolas are individual structures for your outdoor space, retractable awnings are a fixed installment on the side of your house.
Designed to deploy and retract at your convenience, awnings effectively protect you and your Midwestern home from the outside in… literally!
For example, with Sunesta's awning fabrics (which are rated UPF 30 and approved by the Skin Cancer Foundation), you can effectively mitigate skin damage that is caused by UVA and UVB rays. What's more, by shading you from sunlight, you can also remain up to 20 degrees cooler — no matter the season!
Finally, as an awning is attached to your home, it also shields the side of the property itself. Thus, you benefit from:
Reduced energy bills

Reduced fading of your indoor property

Reduced sun damage to your outdoor fixtures

And more
The Bottom Line: Your Protection, Your Preference!
At the end of the day, neither a pergola nor an awning is a bad choice come time to enhance your outdoor comfort.
In fact, they both still hold one major feature in common: Superior outdoor products found with Sunesta!
No matter which you find you have a preference for, Sunesta will be there to help you install a custom-designed, automatically retractable solution for your outdoor comfort. 100% American-made and installed by your local Midwestern dealer, we guarantee you will experience nothing short of total satisfaction!
So, are you ready to experience the nation's best warranty and white-glove service? Then contact Sunesta today and get your FREE estimate by calling 1-800-SUNESTA! Your outdoor comfort is our priority.