An Outdoor Canopy From Sunesta Will Give You the Shade You Desire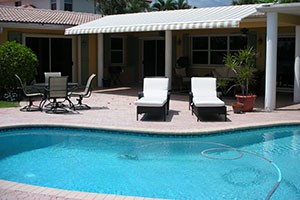 When you think of an outdoor canopy, what comes to mind? Is it a retractable awning that extends to cover your deck, patio, window, or door? A freestanding structure that provides shade for your pool or outdoor kitchen? How about a covering for your pergola that you can extend and retract as you please? At Sunesta, we want to help you make your vision of an outdoor canopy a reality. That's why, rather than relying on mass-production, we custom-manufacture every shading system we make, catering to each of our customers' unique needs. But don't let our attention to detail fool you – we also have an efficient manufacturing process that has enabled us to achieve the fastest turnaround time in the industry. Sunesta's canopies are generally shipped within just five days after an order is received, meaning you can start enjoying your custom-made outdoor canopy as quickly as possible.
At Sunesta, we understand that every home is different, which is why every shading solution we create is made-to-order. We also offer the largest fabric selection in the industry, which includes more than 180 different options. Within our selection of varying patterns and colors, you'll be sure to find the perfect aesthetic for your home.
Sunesta's dedication to customization doesn't stop there, however, as we also offer numerous add-on features that can enhance the functionality of your new outdoor canopy. Some of these options include:
Remote control operation
Wind and sun sensors
Drop down valances
Protective casings
If you're considering investing in an outdoor canopy for your home, call 1-800-SUNESTA today for more information.