Where to Find a Premium Outdoor Sun Shade for Your Home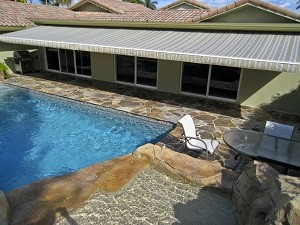 If you are considering adding an outdoor sun shade to your house, trust the experts at Sunesta to create a beautiful and long-lasting patio awning. We will manufacture a custom patio cover for you that will fit the precise dimensions of your patio to ensure a flawless fit. Plus, we have more than 150 fabric styles to choose from, so you are sure to find a pattern and color you really love.
Not only will your new outdoor sun shade be beautiful, it will also be:
Resistant to mold and mildew growth
Durable enough to withstand winds greater than 45 mph
Resistant to fading in direct sunlight
Exceptionally easy to clean
Once you have your new patio cover from Sunesta installed, you'll be able to use your new shaded space for a wide variety of activities like:
Hosting outdoor parties
Growing sun-sensitive plants
Relaxing and reading a book
And so much more
In addition to the exceptional products we offer, we also provide excellent customer service. In order to quickly help you in the event you need assistance, we assign your awning a unique SmartCode™ number. If you ever contact us needing support, we will use this code to access the specifications of your patio awning and will be able to help you in a prompt manner. Your new patio cover will also come backed with an industry-leading warranty, so you can rest assured your investment is protected.
To learn more about adding an outdoor sun shade or patio screen to your home, call 1-800-Sunesta today.