Patio Shade Covers Custom Made for Homes Across the US by Sunesta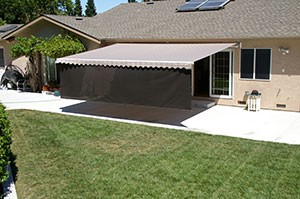 Patio shade covers from Sunesta are the ideal choice because they're custom made. We've developed a computer-aided manufacturing process that allows us to craft all kinds of shade systems – awnings, freestanding structures, pergola covers, solar screens, and more – to specific sizes depending on the needs of our customers. Additionally, our shade covers are available in more than 180 fabric styles, and they can be upgraded with addable features like motorization and sun and wind sensors. In short, there are few awning companies that can provide you with as many options as Sunesta.
In addition to being customizable, our patio shade covers are also very durable and long lasting. For example:
Our fabric is specially treated for water resistance and will deter the growth of mold, mildew, and rot. The synthetic fiber that makes up our fabric is also solution-dyed and less susceptible to color fading and running than competing materials like cloth.
Our frames are made of a sturdy metal alloy, lending our shade covers incredible wind resistance. In fact, our retractable awnings are the first and only in the industry to have received approval from the strict Miami-Dade County and Florida Building Codes.
We use a powder-coated finish on our frames that is four to eight times thicker than paint, meaning they are less likely to chip and scratch. Moreover, the smooth finish can easily be wiped clean with a cloth.
To learn more about our patio shade covers, call 1-800-SUNESTA today and one of our knowledgeable representatives will be happy to assist you. Our customized shading systems can be found in homes throughout the nation.