Patio Shade Screens From the Experts at Sunesta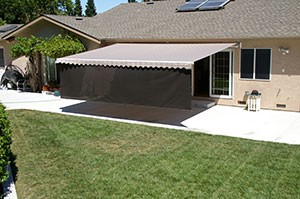 Patio shade screens from Sunesta can turn your underutilized outdoor space into a private retreat for you and your loved ones to enjoy throughout the year. Imagine transforming your patio into an area perfect for comfortably relaxing while you read your favorite book or host a fun dinner party. You can even turn your patio into a safe outdoor play area for your children – with Sunesta's patio shades, the possibilities are endless.
One of the reasons why we stand out from our competitors is that our patio shade screens come in a wide variety of fabrics, including:
Opaque fabrics – This style shade will add extra privacy to your patio space.
Clear vinyl windows – If you want protection from rain and the cold, these shades are for you.
Solar mesh – For lots of shade and protection from the sun, consider this style fabric.
Bug screens – No one likes to be pestered by insects, so these fabrics are a great option for everyone.
At Sunesta we believe in offering the best products on the market as well as providing exceptional customer service. All of our products come with a unique SmartCode™ number that allows us to provide you with instant help should you ever have any questions or concerns about your patio shades. We also offer comprehensive warranties so you can rest assured your investment is protected.
To learn more about the patio shade screens we offer to homeowners throughout the United States, call 1-800-SUNESTA today. We will be happy to answer any questions you might have about our outstanding products.