Awnings Jacksonville FL
Premium Awnings for Homeowners in the Jacksonville, FL, Area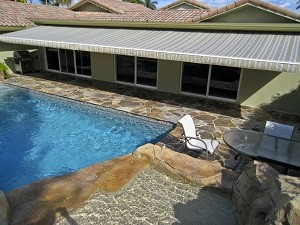 Awnings are great upgrades for homeowners in the Jacksonville, Florida, area, who want a shaded outdoor living space to enjoy year-round. To ensure you have a high-quality awning installed on your patio, turn to the experienced professionals at Sunesta. We custom manufacture all of our awnings to ensure they add to the aesthetics of homes. Your new patio canopy will perfectly fit the precise dimensions of your patio space, creating a sophisticated and flawless look that is sure to impress. Our custom awnings are also available in over 150 different patterns and colors, so you are sure to find a design that will complement the style of your home.
Additionally, our awnings for homes in the Jacksonville, FL, area, are:
• Resistant to fading and unsightly fungus growth since they are woven from 100 percent solution-dyed synthetic fibers
• Retractable and can easily be rolled up when you feel like soaking in some Vitamin D
• Mounted on exceptionally durable powder-coated frames that are easy to clean
• Able to withstand winds greater than the industry-recommended 45 mph
Plus, all of our awnings come with unique SmartCode™ numbers that give us instant access to product specifications. This means that we will be able to quickly help you should you need any assistance with your patio canopy in the future.
If you would like to learn more about the awnings we have available, call 1-800-SUNESTA today. Our specialists can answer any questions you have and can tell you more about the outstanding products we offer to homeowners in the Jacksonville, FL, area.