Premium Outdoor Roll Up Shades from Sunesta for Homeowners Across the Nation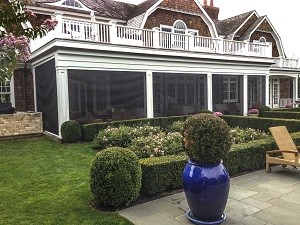 After having outdoor roll up shades from Sunesta installed on your porch, you will be able to utilize your outdoor space like never before. Many homeowners can relate to optimistically planning a family lunch or dinner in their patio, but when the reality of insect bites, harsh sunlight, or wind sets in, the plans are moved inside. After adding shades to your patio, you'll never again have to move the get-together inside. You will instead be able to comfortably relax in an outdoor space that will protect you from:
• Inclement or cold weather
• Mosquitos, biting flies, and no-see-ums
• Overexposure to sunlight
Additionally, when you turn to Sunesta for your shade solutions, you don't have to make the commitment of having any permanent shade solution installed. All of our shades, including awnings and screens are retractable and can easily be rolled up with a crank of a knob or push of a button. This means that you will have protection from the elements when you want it or can immerse yourself in the outdoors when you so choose.
Plus, our shades come with unique SmartCode™ numbers that allow us to quickly access the specific details of your screens should you need assistance with them in the future.
For more information on the outdoor roll up shades we have available for homeowners throughout the United States, call 1-800-SUNESTA today. Our specialists will gladly answer any questions you have and can tell you more about all of the retractable awnings and solar screens we offer.