Restaurant Awnings Custom Made by Sunesta, a Pioneer of the Awning Industry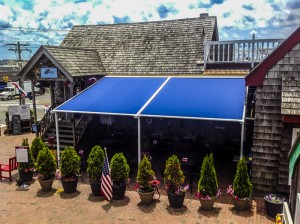 If you need beautiful, durable restaurant awnings for your business, turn to Sunesta, a pioneer of the industry that has specialized in custom retractable awnings since 1981. Whether you just need awnings to cover your building's entrances and windows, or you're looking for more unique shade solutions, Sunesta is sure to have options that suit your requirements. In addition to window and door awnings, we can provide retractable awnings for your outdoor dining areas, cover existing structures like pergolas or skylights with retractable shelters, or enclose an existing outdoor area with retractable screens for protection from bugs, sun, and inclement weather.
In addition to enhancing the experience for your guests when they visit your restaurant, Sunesta Awnings will provide a wealth of other benefits for your business:
They'll enhance the exterior appearance of your restaurant, improving curb appeal and attracting customers
They'll help reduce your energy bills during the warmer months by shading the building's interior
They'll increase the restaurant's resale value, should you ever decide to sell in the future
They'll last for many years, as our restaurant awnings are expertly designed for unbeatable durability (Sunesta Awnings have even received Miami-Dade Country and Florida Building Code approval status for reliable performance in high-speed winds)
They'll fit your building exactly, as every one of our awnings is custom manufactured for its intended application
Plus, when you choose Sunesta for your restaurant awnings, you can also count on personalized service. Every Sunesta Awning has a unique SmartCode™ identification number pertaining to your custom order. This means that if you need us in the future, we'll have access to all the details of the particular Sunesta products you purchased.
Call 1-800-SUNESTA today to learn more about our restaurant awnings and how they can enhance your business.