Add a Retractable Awning to Your Home in Atlantic Beach, FL
Add a Retractable Awning to Your Home in Atlantic Beach, FL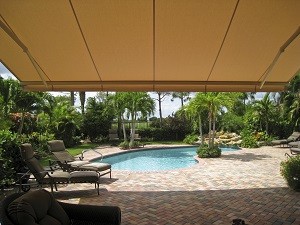 Adding a retractable awning to your outdoor living space at your home in Atlantic Beach, Florida, will create a shady spot to enjoy outdoor activities. The Florida sun can be brutal, but with awnings from Sunesta, you can enjoy your outdoor space while relaxing in the cool shade. What's more, since our awnings are retractable, you can always easily retract them to enjoy a beautiful starry night whenever you please.
Whether you are looking to add a cover to your pergola or mount an awning to an exterior wall of your home, we have what you need. We offer multiple retractable awning designs for homeowners in Atlantic Beach, FL, including:
Freestanding shelters – If you want to cover an area of your outdoor space that isn't near a wall or roofline, our freestanding shelters are the perfect choice.
Pergola covers – With these covers, it's easy to turn your pergola into a shade retreat.
Patio awnings – These retractable awnings are easily mounted to walls and rooflines for instant access to shade on your patio, deck, or other area near your home.
All awning styles we offer are durable as they include hardware made from stainless steel, which means you won't have to worry about essential pieces rusting out. Additionally, the frames are powder-coated so they are exceptionally easy to clean. Even more, our products come backed with an industry-leading warranty so you can feel confident in your purchase.
If you're interested in installing a retractable awning at your home in Atlantic Beach, FL, call us today at 1-800-SUNESTA.