Solar Screens
Solar Screens Provide Optimal Shade Protection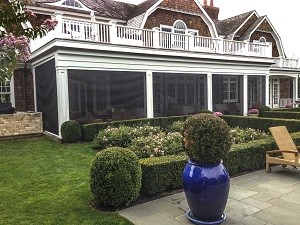 Solar screens are a great shading option to consider if you're looking to get the most protection from the sun no matter where it is in the sky. Beyond sun protection, shade screens offer privacy, as well as protection from other outdoor elements such as insects and inclement weather. If this type of addition sounds like it might be a great solution for your sun shade needs, turn to Sunesta. Since 1981, we have been making customized shading products for customers all over the United States. In that time, we have perfected our manufacturing process, which allows us to produce stunning, one-of-a-kind shade solutions that are durable and built withstand constant exposure to the sun, wind, and precipitation. So, for solar screens that are sure to perform optimally and fit your home perfectly, Sunesta is the company to turn to.
Sunesta's retractable solar screens have several design features that make them the best choice for your home. For example:
The screens can be custom-built to fit the dimensions of your patio, lanai, glass doors, or windows
They are available in different fabric types to meet your specific shading needs, such as bug screens for insect protection, solar mesh for sun protection, opaque fabrics for room brightness control and privacy, and clear vinyl for protection from the rain, wind, and cold weather
There are numerous accessories available that can enhance the functionality and prolong the life of our screens, such as protective casings, motorized operation, and more
For more information about Sunesta's retractable solar screens, call us today at 1-800-SUNESTA.