Sun Awnings
Sun Awnings From Sunesta Allow You to Control The Shade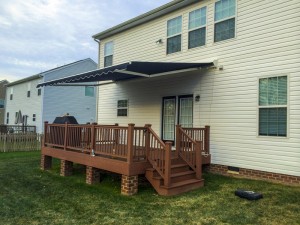 For a wide selection of sun awnings that can provide shade for virtually any outdoor space, turn to Sunesta. Since 1981, we have been a pioneer of the awning industry, and today we are proud to offer the widest selection of fabric patterns and optional features available.
All of our sun awnings are made to order, which means they can be custom designed specifically for your home or business. No matter which style of awning works best for your outdoor space, you will be able to control the shade with just a turn of a handle or push of a button because all of our awnings are retractable. You will even have the option of controlling your motorized awning with a wireless remote control, which is just one of the many state-of-the-art features that Sunesta's sun awnings have to offer.
Additional features you can choose from include:
SmartDrop™ – a see-through valance that can be dropped from the front bar of the awning, providing protection from the sun when it is low in the sky while preserving your view with our open-weave fabric
SmartCase™ – an aluminum cassette provides 360-degree protection for the awning when it's retracted, and also removes debris from the awning when it's drawn in
SmartTilt™ – this feature allows for quick and easy adjustment of the awning's angle to account for the changing position of the sun
SmartControl™ – motion sensors detect wind and sun, and can automatically extend or retract the awning accordingly
Sun awnings from Sunesta are the ideal shade solution for any application. In addition to providing awnings that mount to the walls of the home, we also have awnings for existing structures, such as pergolas and sunrooms, and we can even provide freestanding awnings to create a shady oasis anywhere you'd like.
To learn more about Sunesta's high-quality sun awnings, call 1-800-SUNESTA today.