Awning Supplier
Sunesta – A Premier Awning Supplier & Manufacturer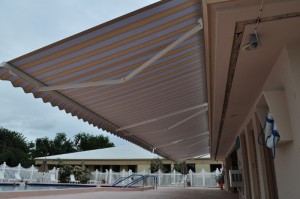 Sunesta is no ordinary awning supplier – we are an awning manufacturer that offers some of the most sought after retractable awnings on the market. Each and every Sunesta Awning is custom made to the specific measurements of the customer's home, which ensures a perfect fit and beautiful appearance. Plus, our fabrics are available in more than 180 different styles, the largest selection in the industry, which allows homeowners to choose a color or pattern that complements the home's exterior. Don't get stuck with a typical awning supplier that will provide you with a generic, mass-produced awning – choose Sunesta and become a part of the manufacturing process.
In addition to being completely custom-made for your home, Sunesta Awnings are exceptionally durable. Some aspects of our awnings that contribute to their outstanding performance include:
Our fabric is composed of acrylic fiber that is 100 percent solution dyed. The material is specially treated for water resistance and is highly resistant to mold and rot. Also, our dying process keeps the awning's color from fading or running.
Sunesta Awnings are made with the best materials. We're the first and only awning manufacturer and supplier in the industry to have awnings approved by Miami-Dade County and Florida Building Codes for superior resistance to high-speed winds.
Our frames are powder coated, creating a finish that is four to eight times thicker than paint, (and easier to clean, too).
A stand-out point of Sunesta's service that makes us a unique awning supplier is that all of our awnings have their own SmartCode™. This unique identification number will allow us to access all the details of your order to provide personalized service should you ever need assistance down the road.
If you're looking for an awning supplier, please call 1-800-SUNESTA today for superior products and service.