The Top 3 Benefits of Owning a Retractable Awning in the Northeast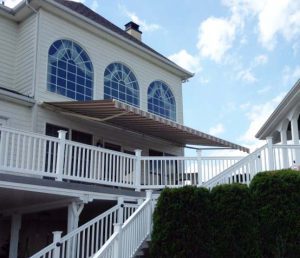 No matter if it's a temperate autumn morning or a sweltering summer afternoon, one thing about living in the Northeast is certain: you never quite know when you're going to be blindsided by the sun.
Thus, many homeowners in this region today are turning to retractable awnings as a solution to their weather-related woes.
And if you're wondering whether or not you should go ahead and hop on that train too, we encourage you to consider the following top three benefits of installing your own retractable awning:
Benefit #1 – Saying "No" to Sun and Heat
First and foremost, a retractable awning will benefit you by reducing the overall sun exposure your Northeastern home faces.
Not only will this prevent sun damage and fading of your property — both in terms of indoor furniture and outdoor patio items — but it will also keep your home cooler, thereby cutting the amount of money spent on your monthly energy bill.
"Fabric awnings or exterior shades can save homeowners as much as $200 annually by reducing the load on air conditioners," according to The Professional Awning Manufacturers Association (PAMA).
Additionally, don't forget the physical benefits of a retractable awning. By helping you live life in the shade, an awning can reduce harmful UV exposure and keep you cooler by up to 20 degrees.
Benefit #2 – Stressing the Benefits, Not Your Body
Not all awnings are made equal. After all, manual awnings require the user to crank them up and out by hand, thereby necessitating physical exertion that can heat the body further before they get to reap the relief of the shade.
Retractable awnings made with industry-leading technology, however — such as with Sunesta — need only the push of a button to automatically deploy the shady structure.
Not only does this reduce the amount of stress placed on your body, but it also offers an optimized level of ease and versatility, as you can reimagine your space whenever and however you need.
For example, should blustery winds or Northeastern storms emerge unexpectedly, you can immediately and automatically retract the awning before heading back inside..
Benefit #3 – Padding Your Property with Value
According to a study completed by Michigan State University, a home's perceived value may increase anywhere from 5% to 11% based on optimized curb appeal.
And what better way to increase your property value than with a retractable awning?
After all, an awning can save the amount of money you need to put into your home in order to enhance its resale value, as the shady protection will mitigate external damage and fading. What's more, the technological upgrade of the given outdoor space will allow you to adjust the market value of the property accordingly.
And if you're looking for the best retractable awning to be found in the Northeast, we guarantee you'll find ultimate satisfaction with Sunesta!
Our automatically retractable awnings are made in America, customized according to your home's unique dimensions, and are manufactured with your choice of over 130 different fade-resistant fabric choices!
If you're ready to learn more about our state-of-the-art retractable awnings, or if you'd like to get your FREE Sunesta estimate, contact us today by calling 1-800-SUNESTA! Life in the shade has never been easier.