Awnings Pittsburgh PA
Transform Your Home in Pittsburgh, PA, With Awnings From Sunesta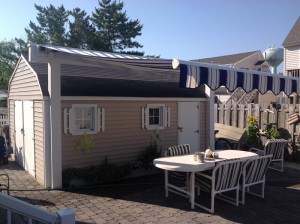 If you're looking to install awnings on your home in Pittsburgh, Pennsylvania, consider the leader in the retractable awning industry – Sunesta. Since 1981, we've been helping homeowners all over the country transform their outdoor living spaces into functional, shady getaways that can be enjoyed year-round.
Whether you're looking to add shade to your deck, porch, or patio, or want awnings for your doors and windows, Sunesta can manufacture a custom solution tailor-made to the specific dimensions of your home. We have a wide variety of options for you to choose from, so no matter your style, you'll find an awning that perfectly complements your home.
Awnings from Sunesta are a great option for homeowners in Pittsburgh, PA, because they offer features such as:
SmartPower™ – this motorized options lets you retract your awning manually or with a simple push of a button.
SmartCase™ – this encasement not only provides protection for a retracted awning, but it also removes leaves and other debris as the awning is drawn in.
SmartControl™ – If you choose a motorized option, this feature provides a range of remote control choices and auto sensors (such as motion and sun sensors).
SmartDrop™ – When the sun is low in the sky, this transparent valance can be dropped down from the front bar of the awning for increased sun protection.
And more
In addition to manufacturing custom awnings for your home, Sunesta is also committed to providing personalized customer service as well. All of our awnings are given a unique SmartCode™ number so we can identify them individually, which lets us provide personalized assistance for your exact product if the need ever arises in the future.
For more information on the awnings Sunesta can install on your home in Pittsburgh, PA, call 1-800-SUNESTA today.