Deck Awnings Can Help Homeowners Enjoy Their Backyards More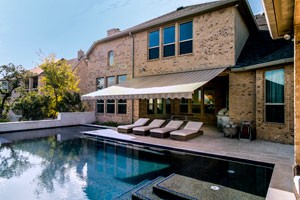 Premium deck awnings can transform underutilized spaces into shaded outdoor living areas that are perfect for hosting get-togethers with loved ones. Once you cover your deck, you'll have a comfortable place to relax as well as a shaded space for your family and friends to visit in at your next barbeque.
Before you invest in an awning for you deck though, it's important to do a little research to ensure you get a high-quality product that will live up to your expectations. You'll want to make certain that the fabric of the awning is durable and low maintenance and also that the product can withstand standard weather conditions. Otherwise, your deck awning will become more of a pain than a pleasure to have.
For deck awnings that require little maintenance, allowing you to spend more time enjoying the beautiful outdoors, turn to Sunesta. Our deck awnings are top-of-the-line because they are:
• Built to withstand winds greater than the industry-recommended 45 mph
• Available in a wide variety of colors and patterns, so you are sure to find a look you love that will perfectly complement your home
• Custom cut, which means your new awning will be manufactured to fit the precise dimensions of your deck.
• Woven from 100 percent solution-dyed synthetic fibers that won't fade in direct sunlight or fall victim to mold and mildew growth
• Mounted on durable powder-coated frames that are exceptionally easy to clean
If you would like to learn more about the outstanding deck awnings we offer to homeowners, call 1-800-SUNESTA today.