A Retractable Deck Canopy Will Make Your Deck a More Enjoyable Place to Spend Time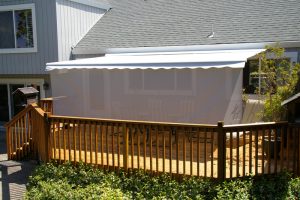 A retractable deck canopy is the perfect solution for all homeowners who wish to make their deck a more enjoyable place to spend time. Whereas fixed awnings can only provide shade, retractable awnings can provide either shade or sunlight with the simple turn of a handle or push of a button. This gives you the best of both worlds – enjoy shade on your deck by day and then simply retract it to enjoy the stars at night!
In addition to making it easy to enjoy the shade when you need it and the sun when you want it, retractable awnings are perfect for homeowners in every geographic location. Unlike a fixed awning that has to be taken down every winter and rehung in the spring, a retractable deck canopy need only be retracted for protection against rain, sleet, snow, hail, and wind. Of course, you will want to check with your manufacturer to learn all the specifics about an awning's durability.
At Sunesta, we have been manufacturing awnings for homeowners since 1981. Each one of our awnings is custom made, ensuring a perfect fit on every home. Not only are all of our awnings retractable, but they are available with all kinds of additional features such as dropdown valances, sun and wind sensors, protective casings, and more. Plus, when you choose to order a deck canopy from us, you will be able to choose from an assortment of more than 150 unique fabric styles.
If you would like to have a beautiful deck canopy custom made for your home, contact the outdoor living experts at Sunesta today.