Choosing the Sun Screen Fabric for Your Home is Easy When You Turn to Sunesta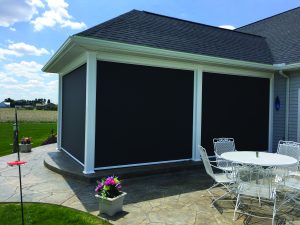 Installing a retractable screen in your backyard is an easy way to eliminate the fear that light rain and insects will spoil your next gathering. However, it's important to select the best fabric for your screen, and that's easy to do with the help of the shade experts at Sunesta. We proudly offer a wide range of water-resistant fabrics that are available in several different colors and styles.
All of our awning and sun screen fabric products are made out of 100 percent solution-dyed acrylic fabric, which means that the color is dyed directly in the fibers of the fabric itself. This unique material allows for your new awning screen panels to better resist mold, mildew, and rot than ever before.
Privacy is a Priority
When selecting the patio cover sun screen fabric for your home, it is important to keep in mind that there are several different privacy options available. For example, if you desire more sun protection and seclusion in your backyard, a tighter weave is the right choice for you. However, if you would prefer a sun shade fabric that has better visibility and airflow, a looser fabric weave is what you are looking for. Alternatively, we also offer a clear fabric that will create the appearance of an open window and keep your patio warm during the cold seasons.
To learn more about the sun screen fabric options available for your new retractable sun shades, contact us today at 1-800-SUNESTA.
ALL
/
Brown
/
Green
/
Blue
/
Grey
/
Red/Yellow
/
Smart Drop Valence
/
Shade Fabric Collection