Retractable Outdoor Screens Can be Used for A Variety of Purposes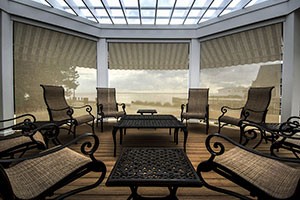 With retractable outdoor screens installed, you can transform your patio or porch into a convertible outdoor living area. With the simple push of a button, your screens can be dropped down to provide all the shade or privacy you desire, and, just as easily, they can be rolled back up so you can enjoy the full beauty of the outdoors. It's outdoor living at its finest!
In addition to being easily dropped down and rolled up again, outdoor screens can be customized in various ways. Some manufacturers may offer different fabric weave patterns, for example, which can offer varying levels of shade, privacy, and bug protection. Screens are also often available in various colors, and can be a beautiful addition to any home.
At Sunesta, we've been committed to providing our customers with customized shading solutions since 1981. We use a computer-aided manufacturing process that allows us to make outdoor screens in nearly any size – even for large openings such as for patios, lanais, porches, pergolas, and other outdoor living areas. Additionally, we make our screen fabric with 100 percent solution-dyed synthetic fiber, which is a colorfast material that resists the growth of mold and mildew.
If you're interested in purchasing outdoor screens for your home, call 1-800-SUNESTA today and one of our knowledgeable representatives will be happy to assist you. Don't forget to ask about our SmartCode™ system, which allows us to provide personalized assistance should it ever be needed down the road.