Different Types of Outdoor Shades for Your Property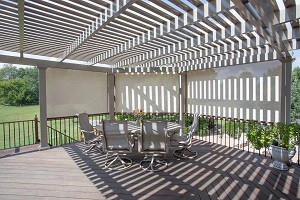 Outdoor shades are more than just a design element for an area of your backyard. Shade structures also offer protection from the sun's harmful UV rays and inclement weather, and some can even offer protection from other outdoor nuisances like insects. So, if you'd like to get more enjoyment from time spent outside, outdoor shades can offer you a solution that provides the protection and comfort you need and want.
There are several different types of outdoor shades that you can have installed on your property, such as:
Shade shelters – These are freestanding structures that offer a solid fabric roof covering, which can be stationary or retractable. You can also install a retractable fabric cover over an existing structure to create a shade shelter.
Deck and patio awnings – Awnings have metal frames and utilize fabric covers to provide shade and rain protection to the people or furniture under them.
Screens – Screens can be used to cover windows and doors or enclose patios and lanais to provide shade and comfort from the sun. Screens are also a great option if you want to be protected from wind or bugs, and they offer additional privacy.
If you've decided you would like to install outdoor shades on your property, you don't have to settle for one-size-fits-all products at the local home improvement store. Instead, you can turn to Sunesta. We've been manufacturing custom shade solutions for customers all over the United States. Every shading product we produce is made to order in as little as five business days, and can be made to the exact dimensions for the area you wish to protect. And, with numerous style options and accessories, your new shades are sure to look good and perform optimally for years to come.
For more information on the outdoor shades that Sunesta can make for your home, call us today at 1-800-SUNESTA.