Custom Patio Awnings Offer Unlimited to Benefits to Homeowners Across the United States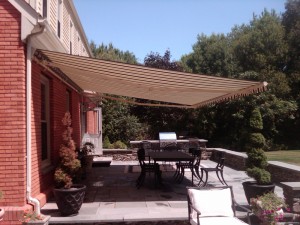 There are many reasons to consider investing in patio awnings for your home. Whether you enjoy entertaining guests in your outdoor space, relaxing outside, or just simply want to block the sunlight, it is likely that you have at one point considered installing an awning on your home. However, while the benefits can be seemingly endless, it is important that you select a company that you can trust to manufacture and install your new product. In fact, if you want several years of enjoyment out of your new patio awnings, it is vital that you select a company that custom manufacturers all of their products.
The process of custom manufacturing will allow you to select from several added features that simply would not be available to you had you selected a pre-made product. For example, having the option to select the fabric for your patio awnings is a huge necessity. In fact, when selecting a company to work with, make sure that they offer a large number of combinations of colors, patterns, and styles that you can find because with an investment like patio awnings, the aesthetic appeal of the finished product is just as important as the functions that it provides.
Additionally, when selecting which manufacturer you want to fabricate your awnings for you, take a look at some of the features that they offer. Add-on options that should be available to you, include:
Motion and light sensors for the automatic expansion and retraction of your awning
A remote so that you can have full control of exactly how much sun makes its way into your shaded space, even from afar
The ability to quickly change the angle of your awnings to make sure that you get shade where you want it, regardless of the position of the sun
For a company that already does all of this and more, turn to Sunesta, one of the pioneers of the custom shading industry. Founded in 1981, we have developed a unique custom manufacturing process that allows us to incorporate the exact dimensions of your home, as well as your unique vision for the aesthetic of your patio awnings.
To learn more about all of the various patio awnings offered by Sunesta, just call 1-800-Sunesta today. We will happily assist customers throughout the entire country.