How a Patio Cover Can help you Enjoy the Outdoors like Never Before at Your Ocala, FL, Home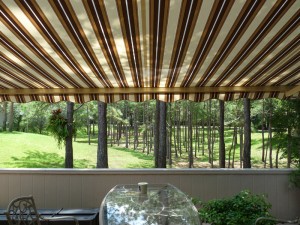 Adding a patio cover to your home in or around the Ocala, Florida, area, is a great decision since it will make spending time outside more enjoyable than ever before. Florida's relentless heat often makes it difficult to enjoy a summer afternoon outside. After having an awning installed, you'll be able to relax in the comfortable, cool shade and enjoy your backyard even on the hottest of summer days.
For an aesthetically pleasing and durable patio cover, turn to the experts at Sunetsa. We can custom manufacture a gorgeous awning for you that will fit the precise dimensions of your patio. The result is a sophisticated look that cannot be obtained by having a one-size-fits-all awning installed.
Additionally, your new patio cover for your home in the Ocala, FL, area will also be retractable. This means that you can enjoy the cool shade whenever you like or soak in some Vitamin D when you so choose. Plus, you can pick from the widest selection of fabrics in the industry to ensure that your awning will complement the design of your house. From solid colors to stripes, we surely have the fabric style you are looking for.
And, that's not all! All of our outstanding patio covers are also exceptionally durable, as they are:
Resistant to fading in direct sunlight and fungus growth
Mounted on powder-coated frames that won't crack or peel
Built to withstand winds greater than the industry recommended 45 mph
To learn more about adding a patio cover to your home, call 1-800-SUNESTA today. One of our knowledgeable associates will be pleased to answer any questions you have.