Four Features to Look for When Purchasing a Patio Covering to Ensure That It's Durable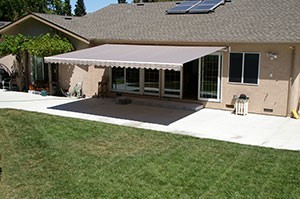 Would you like to have a retractable patio covering installed on your home? If so, there are certainly many options you will have to choose from throughout the process. For example, would you rather have an awning that mounts to your wall and roofline to extend and cover a section of your patio, or, an awning that can be made to cover an existing structure, such as a pergola? And, that's only the tip of the iceberg. There are also many different color options, accessories, and more.
While navigating all these aesthetic options and picking out your dream patio covering can be fun, there are certain other important qualities that are often overlooked, such as durability. After all, awnings are left outside year-round, and so it's important to choose products that are made to withstand the elements. To that end, here are a four key features to look for when picking out a patio covering:
Solution-dyed synthetic fiber fabric – Synthetic materials are less susceptible to the growth of mold and mildew than organic materials, like cotton and wool. Additionally, the solution dying process helps fabrics to retain their color.
Powder-coated metal frames – Metal frames provide a sturdiness unequaled by plastics and other materials. Powder coating provides a thick finish that protects the metal from scratching and rusting.
Wind resistance – Wind resistance is important for any patio covering. Since awnings are left outside year-round, they will undoubtedly be tested by wind throughout the year.
Casings and protective covers – When an awning isn't in use, it can be helpful to be able to retract it into a case so that it is further protected from the elements.
At Sunesta, we've been custom manufacturing awnings for homeowners across the country since 1981. Every Sunesta patio covering is available in various styles, and features fabric woven from 100 percent solution-dyed synthetic fibers, power-coated metal frames, industry-leading wind resistance, and is available with protective coverings to retract into when not in use.
If you are interested in purchasing a patio covering for your home, call 1-800-SUNESTA today to learn more about our custom-made shading systems.