Sunesta Patio Covers Create Custom Shade on Demand for Homeowners in the Allentown, PA, Area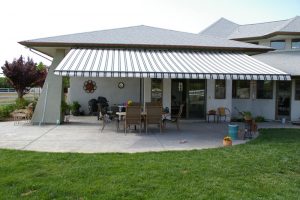 Retractable patio covers from Sunesta can help transform the deck on your home in the Allentown, Pennsylvania, area into an instant party spot, even when the sun blazes at the peak of summer.
That's because our beautiful yet durable patio covers are custom crafted to put you in control of the shade. Whether you want to block the sun to create a more comfortable outdoor living space for a get-together or simply to relax outside your home with a glass of lemonade and a view of the neighborhood, our patio awnings can fill the bill.
What's more, retractable patio covers help keep indoor space more comfortable, too. That's because blocking the sun at strategic times can reduce or encourage heat transfer into your home, thus potentially lowering your energy bills. In the summer, for example, blocking the sun can lead to less need for air conditioning, while in winter, retracting your awning during the warm part of the day may reduce your need to run the heater.
Beyond practical reasons for installing a retractable awning, however, you'll want to choose Sunesta because our wide variety of colors and styles is among the best in the industry. Our patio covers come in a selection of more than 150 solid colors and stripe patterns because we know every home is unique, and we want you to find the perfect look for your home in Allentown, PA, or one of the surrounding communities.
In addition, Sunesta patio covers offer peace of mind that comes with the following:
Measurements and installation by trained technicians from one of our authorized dealers
Warranties on the fabric, frame, and motor that are among the best in the industry
An awning from a company that has led the industry in technological advances and has a history of dedication to excellent customer service
Those are only some of the reasons you'll want to choose retractable patio covers from Sunesta for your home in the Allentown, PA, area. For more information, call us at 1-800-SUNESTA and one of our friendly representatives will be happy to help you.