Patio Screens Will Enhance the Enjoyment of Your Backyard Space at Your Home in Phoenix, AZ, or a Surrounding Area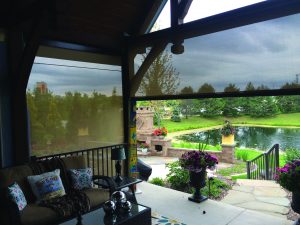 If you've been considering patio screens as an option for your backyard in Phoenix, Arizona, or a surrounding area, turn to the experts at Sunesta. We have been well known as the shading experts since our opening in 1981 and we are sure to have an option for you that will allow you to spend more time on your patio and less time indoors. We offer retractable screens that will grant you the power to relax in the sun when you want to or enjoy shaded protection when the sun's UV rays are just too intense.
Additionally, the patio screens offered by Sunesta to homeowners in Phoenix, AZ, and the surrounding area are custom manufactured at our United States-based facility. This means that we can personalize your screen with any customization options you like. We are able to offer:
Custom colors such as bronze, beige, white, clay, brown, and more
Protection against insects
Optional remote control operation
Customizable opacity levels for enhanced privacy
And more
Additionally, we pride ourselves on the patio screens that we offer, so we back them all by an impressive warranty. In order to easily manage any warranty claims you may need years down the road, we will pair your new screen with a SmartCode™ number that will allow us to easily access its unique specifications whenever you desire.
For more information about the impressive patio screens that we offer for homeowners in Phoenix, AZ, and the rest of the United States, call 1-800-SUNESTA today.