The Many Different Types of Retractable Patio Shades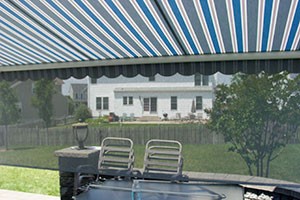 There are many different ways to shade a patio, thus retractable patio shades are available in a variety of types to fulfill various needs. It's a creative and fun process to visualize how your patio might be shaded, and it helps to know about some of the products that are available to help accomplish your goal. So, without further ado, here is a small list of the different types of retractable patio shades and what they're designed to do:
Patio awnings – The iconic patio shade. A patio awning can be mounted to your home's exterior wall or roofline to extend and cover the seating, eating, or grilling area on your patio. Keep in mind, there are features that can be added to these patio shades to provide additional coverage for your patio, such as dropdown valances.
Pergola covers – Some patios are partially covered by pergolas, and the best way to increase the amount of shade given by a pergola is with a pergola cover. These can be installed directly on top of your pergola to provide shade for everything underneath.
Freestanding structures – Maybe your patio is away from the walls of your home where a patio awning won't reach. This is where a freestanding shade structure might come in handy.
Patio Screens – Perfect for providing extra bug protection, sun protection, and privacy in structures that are already partially enclosed, retractable patio screens can cover up an opening to form a kind of "retractable wall."
At Sunesta, we have been custom manufacturing patio shades for homeowners across the United States since 1981. If you'd like to learn more about the various types of patio shades that we offer, or for help coming up with patio shading ideas, call 1-800-SUNESTA today and one of our knowledgeable representatives will be happy to assist you.