How a Pergola Canopy Can Help You Enjoy Your Backyard More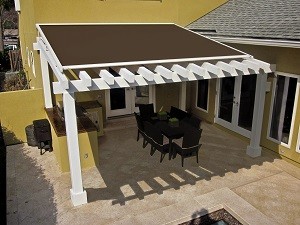 A pergola canopy can turn your beautiful outdoor living space into an even more comfortable and enjoyable space to spend time in. During the summer months, the sun can be brutally hot and can discourage you from spending time outdoors. With a canopy from Sunesta, you'll no longer have to retreat inside on a hot summer day. You'll be able to relax in a cool shaded space even on the warmest of days.
At Sunesta, our canopies are all custom made to fit the exact dimensions of your pergola. As a result, your pergola canopy will look much more sophisticated and aesthetically pleasing than it would with the one-size-fits-all canopy sold at many stores.
In addition to being custom made to perfectly fit your pergola, your new canopy will also be:
Retractable – With our canopies, you'll have the freedom to decide if you want to enjoy the sunshine or the shade.
Customizable – You'll have the ability to pick the openness factor of your pergola canopy, which means you can decide how much sunlight you want filtered through.
Beautiful – We have the largest selection of colors and patterns in the industry, so you'll be able to choose a fabric that will perfectly complement your home.
Protected – Your new canopy will come with a comprehensive warranty, so you can feel good about your new investment.
At Sunesta, we also offer outstanding customer service. Your new pergola canopy will come with a unique SmartCode™ number that will give us instant access to the specifications of your product should you ever have any questions or concerns.
To learn more about adding a pergola canopy to your home, call 1-800-SUNESTA today. Our team of specialists are available to answer any questions that you might have.