Enjoy the Shade & Sunshine by Having a Power Awning Installed on Your Home in AZ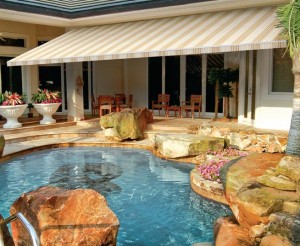 Having a power awning installed on your home in Arizona will enable you to enjoy the sun when you want it and the shade when you need it, all with the simple push of a button. At Sunesta, we've been making motorized retractable awnings since 1981, giving us decades of industry experience. We manufacture awnings for patios and decks, windows and doors, and many other parts of the home, such as pergolas and skylights. Plus, we make all of our awnings to order, ensuring a perfect fit on every home.
There are plenty of other reasons to choose Sunesta to make the power awning for your home in Arizona. For example:
We use 100 percent solution-dyed synthetic fibers to make our fabric, so it will not fade or be plagued by the growth of mildew.
Our frames are made from sturdy metal and, as a result, our awnings are exceptionally wind-resistant.
We have a selection of more than 150 fabric styles, filled with colors from bright to neutral and solid and striped patterns.
At Sunesta, we are 100 percent committed to customer satisfaction. We will be happy to work closely by your side in order to ensure that your power awning is the perfect addition to your home.
Call 1-800-SUNESTA today if you would like to have a beautiful, long-lasting power awning installed on your home. We proudly serve homeowners throughout the state of Arizona and beyond.