Add to the Versatility of Your Retractable Patio Canopy with LED Awning Lights from Sunesta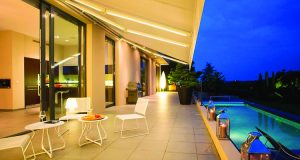 A Sunesta retractable patio canopy allows you to block sunlight whenever you want, and our LED awning lights let you illuminate your deck or patio, even when the sun has gone down for the day. These outdoor awning lights are among the many accessories available from Sunesta to help homeowners make the most of their outdoor living spaces. Whether you'd like to light up the night for a backyard patio party or mellow out in the soft glow of your lighted deck after a long workday, our patio awning lights will provide the precise level of radiance to suit your needs.
Features that Make Our LED Awning Lights a Must-Have for Your Shaded Patio
At Sunesta, we know that convenience adds a great deal to your enjoyment of your retractable awning.  That's why our LED lights are:
Completely plug and play, with no need to hire an electrician
Compatible with handheld remote-control devices, wall switches, and the MyLink app
Able to provide 12 brightness levels
Totally waterproof
Plus, you can add our LED awning lights to your Sunesta retractable patio canopy at the time of installation or even if you've already been enjoying your Sunesta Awning for years.
Sunesta light kits are among the many accessories we offer to homeowners who wish to fully customize their retractable patio awnings to meet their needs. We also offer the Shadeside, an outdoor privacy wall, and the Sunboot, an awning cover that can protect your retractable canopy from the weather and thereby extend its like-new appearance and usefulness. To learn more about our outdoor awning accessories, call 1-800-SUNESTA today.