Retractable Awning Options for Your Home in Sierra Vista, AZ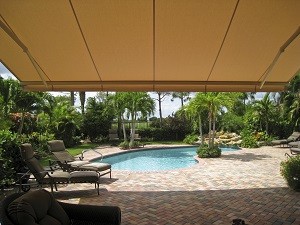 When you want to install a retractable awning for your home in Sierra Vista, Arizona, don't settle for a one-size-fits-all product at the local home improvement store. Instead, create a custom shade solution that meets your needs and aesthetic preferences with Sunesta. We have been manufacturing retractable awnings 1981, and in the time since we have been continually developing our products to provide our customers all over the United States with the shade solutions that make the most sense for their lifestyles.
A retractable awning from Sunesta allows you to have sunlight when you want it and shade when you need it, extending and retracting at your command to create the exact amount of shade you're looking for. We have several different awning styles that can be customized to provide shade over your desired area, whether you wish to have an attached awning on the side of your home to provide shade over a patio or create a comfortable area in the middle of your yard with a freestanding structure. In addition to style, you'll be able to customize the retractable awning for your Sierra Vista, AZ, home in several other ways, such as:
Frame color – You can choose from four attractive frame colors: brown, beige, clay, and white.
Fabric color – We offer a fabric selection of more than 180 different colors and patterns, so you're sure to find an option that suits your taste.
Size – Our awnings are custom made to fit perfectly on your home, down to the very inch.
What's more, Sunesta has as number of optional features that can enhance the performance of your retractable awning, such as remote control motorized operation, dropdown valences, tilting mechanisms, sun and wind sensors, and so much more.
Allow Sunesta to engineer your perfect day. To get started designing a custom retractable awning for your home in Sierra Vista, AZ, call 1-800-SUNESTA today.