Retractable Awnings for Homeowners in Philadelphia, PA & Surrounding Communities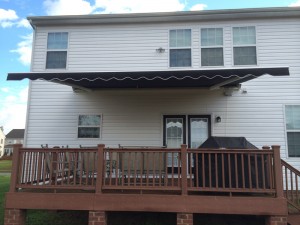 Retractable awnings are ideal for homeowners in Philadelphia, Pennsylvania, and nearby areas who are longing for a shaded paradise outside of their home. However, not all awnings are created equal. Some companies favor mass-manufacturing, generic sizes, and standard colors. We don't. Here at Sunesta, we custom-manufacture each and every one of our retractable awnings to the exact size of our customers' homes, ensuring a perfect fit. Plus, we offer more than 180 different fabric styles (which is the largest selection in the industry) because we take the word "paradise" to heart, and we want to help you make an awning that will make you smile every time you see it.
In addition to being custom-manufactured and available in a variety of colors and styles, Sunesta Retractable Awnings are built to last. In fact, our awnings:
Include metal frames composed of durable metal and finished with a powder coating that is four to eight times thicker than paint.
Have been approved by the Miami-Dade County and Florida Building Codes, (some of the toughest building codes in the country), for resistance to high-speed winds.
Are made with 100 percent, solution-dyed acrylic fiber. Since this is a synthetic material, our retractable awnings are resistant to the growth of mold and rotting. Also, our dying process helps our fabric retain its color.
Are backed by some of the industry's best warranties.
By choosing Sunesta, you can ensure that you will receive a well-made, durable awning that is customized to both your preferences and home in Philadelphia, PA. You also get the added benefit of being able to select from a number of add-on features for extra convenience. For example, one popular accessory is our SmartPower™ option, which motorizes your awning and allows it to be extended and retracted with the simple push of a button.
If you would like to learn more about our retractable awnings, or would like to have one installed on your home in the Philadelphia, PA, metropolitan area, please call 1-800-SUNESTA today.