Customized Retractable Awnings for Homeowners in Wallingford, CT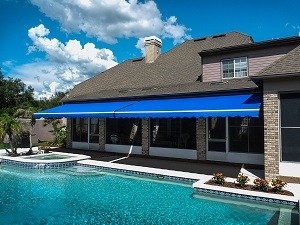 Sunesta makes retractable awnings that are perfect for your home in Wallingford, Connecticut. That's because every awning we make is tailored to your exact specifications, so, one of our shade solutions will provide you with your perfect day, every day – sunlight when you want it and shade when you need it. Whether you've envisioned an awning attached to the side of your home that extends over your patio or a freestanding structure to provide shade over a pool deck or another area of your property, Sunesta has a retractable awning option for you.
Unlike awning products you might find on a store shelf, you can customize every detail of our retractable awnings, with options that include:
Awning size – Our retractable awnings can be made to fit the precise dimensions of the area you wish to cover on your property in Wallingford, Connecticut, down to the very inch.
Fabric style – We offer more than 180 distinct fabric colors and patterns for our retractable awnings, so you're sure to find an option that suits your tastes.
Frame color – Our awning frames are available in four attractive colors that are sure to complement any home's exterior – white, beige, clay, and brown.
Accessories – We have a selection of additional accessories to enhance our awnings' performance, such as dropdown valences, sun and wind sensors, motorized operation, and much more.
In addition to their stunning, customizable aesthetics, our retractable awnings are built to last. Our awning fabrics are made of 100 percent solution-dyed acrylic fibers, which are resistant to mold, mildew, and color running and fading. The frames are designed to be incredibly durable, and can withstand winds greater than the industry-recommended 45 mph when extended, and even more so when retracted. And, for your added peace of mind, all of our awnings are backed by industry-leading warranties, so you can rest assured that your investment is a safe one.
To learn more about our retractable awnings and to get started designing one for your home in Wallingford, CT, call 1-800-SUNESTA today.